Want to discuss a new idea or the progress of an existing project with 2manydots? We often choose to use video calling via Google Hangouts Meet. In this blog post, we'll explain how it works so you can get the most out of your meeting with us.
Step 1. Open invitation.
After you schedule an appointment with 2manydots, we'll send you a Google Calendar invitation. In that invitation, you'll find a link to the video call. Click on it to open the call in your browser. Video calling via Google Meet requires no additional software and is widely supported by web browsers such as Chrome, Safari, Firefox and Edge. If you are still using the now obsolete Internet Explorer 11, you will need an additional plugin. You can download it here.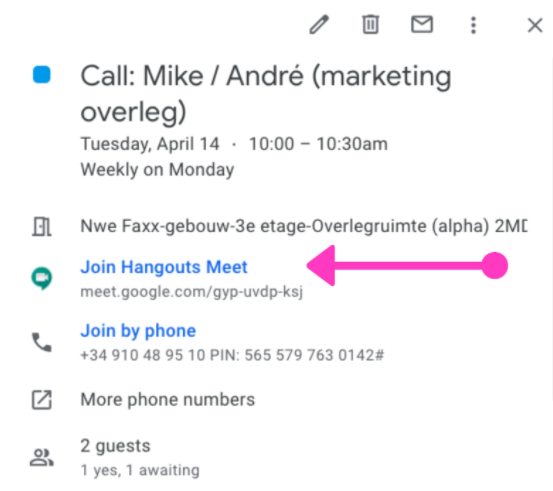 Step 2. Participate in the conversation.
In your browser, the conversation window opens. If your webcam is enabled, you will see yourself on the screen. If your webcam or microphone are not enabled yet, you can do that with the corresponding icons below.

Click the green-colored button with Join Now to start the video call. In some cases, someone in the video call will need to confirm your participation. Think of it as if you were ringing someone's doorbell and waiting at the door. Someone has to open the door for you.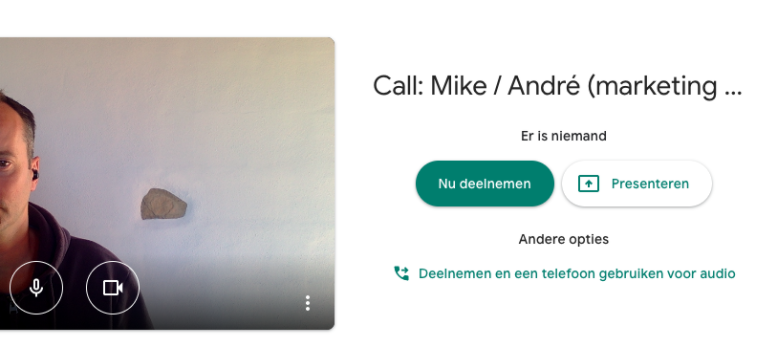 The microphone and camera button are also available during the call. In addition, there are a number of functions that can be used for maximum call comfort. 
Step 3. Functions
Screen sharing
A picture (screen) says more than 1,000 words. When your video call has started, you will find the option Present now at the bottom right. Through this function you can share your screen with the other participants. You then have the choice of sharing your entire screen or just the active window.
Additional Features
There are also a number of additional features. To access those, click on the three balls in the lower right corner during the call.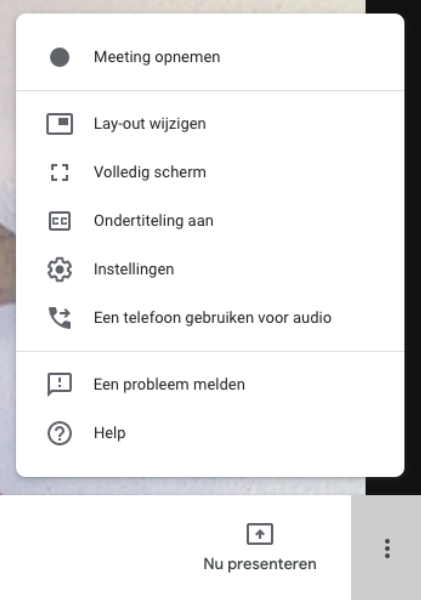 Screen preferences changes
The Layout Change function is particularly useful when you are conferring with three or more participants. It allows you to arrange the windows of your discussion partners in the way you want.
Record video call
On the computer version of Google Meet, which the above screenshot is from, there is the option to record the conversation via Record Meeting. Other users will be notified when you start recording. After stopping the recording or closing the conversation, Google will send you an email with a link to the recording.
Full-screen calling
Not be bothered by incoming emails or instant messages? The Full Screen feature keeps your attention focused on the video conference.
Tips during video calls
To make the conversation as smooth and comfortable as possible, there are some best practices that everyone should adhere to.

Allow for a slight delay
Despite fast internet connections, there is always a slight delay in audio and video. This can cause people to talk at cross purposes and thus stop the conversation. Therefore, wait until someone has finished talking before you say something and allow longer pauses yourself.

Mute your own microphone
The more participants there are, the more likely it is that background noise will interfere with the conversation. It is therefore advisable that you, as well as everyone else who is not speaking, turn off the microphone as you listen.

Use a headset or earbuds
Using a headset or earbuds will improve your sound quality. Your voice will be better picked up by Google Meet and background noise in your environment will have a smaller chance of distracting other participants.

Check your background
Make sure your background is not distracting from the conversation. So no people walking by or backlighting that turns you into a dark silhouette. A plain (piece of) wall often works best.

Turn off notifications
Video calls are usually short and sweet. Keep your attention and don't get distracted by incoming email, apps or other reminders.
---

Solving common problems
Although Google Meet runs like clockwork for most people, it can happen that you experience problems when using this tool. Here are some tips on common problems.
The picture lags behind the sound
A slow connection, for example because everyone in your residential area is working from home, can cause the picture to slow down or falter. To solve this, lower its resolution: click on the three bullet points, then Settings, then Bandwidth. Choose a resolution of 360p - does that help?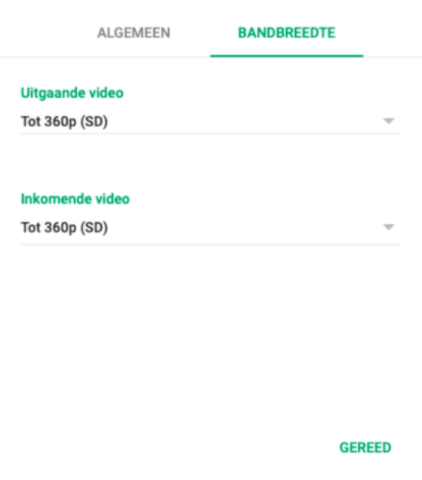 The connection remains slow
If the picture shakes and the sound falters during video calling, your Wi-Fi signal may not be strong enough. Make sure you are close to the router. It may also help to run fewer programs at the same time. If this still doesn't solve anything, you can create a wifi hotspot with your smartphone, where you meet thanks to your data bundle.

Eventually, you can also simply choose to turn off the video camera altogether or just attend the meeting yourself via the phone. Each video room has a unique phone number. You can find this in the agenda invitation.

The camera doesn't do it
If Google Meet doesn't detect or enable your camera, the simple reboot of your computer can reactivate it. It may also be a permissions issue if you have rejected using the camera in your browser in the past. More information can be found on Google Meet's support page.

Dropdown menus are not shown
When you share your window, dropdown menus are not sent with the video. The solution is to share your entire screen instead of just the active window.
You need to install an additional plugin
Are you still working with Internet Explorer 11? This outdated web browser does not have standard support for video calls. You can download and install this plugin for free.